---
How to Bring Physical Events into the Digital World - EMEA
Event Information:
Physical events like seminars and conferences have been a mainstay tactic for marketers since the beginning of time. Well, marketing time. But times change. Physical events are expensive to produce and it's getting harder than ever to drive attendance to them.
On 8 April, at 11:00 am BST | 12:00 pm CEST, join ON24 for "How to Bring Physical Events into the Digital World," and learn how to create engaging, interactive, digital experiences. In this virtual session, you will learn:
How to convert seminars into interactive webinars
How to create digital trade shows and conferences
How to create a hybrid physical/virtual experience
How to convert virtual engagement into insights and data
Protecting business continuity requires that we think differently about how we engage with our audiences. Register now to learn how.
---
Timing:
Date: 8th April, 2020
Time: 11:00 am BST | 12:00 pm CEST
Duration: 1 hour
---
Speaker: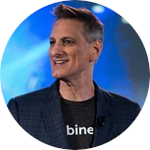 Mark Bornstein - VP of Content Marketing, ON24
Mark brings over 20 years of content marketing, corporate communications and account management experience at leading companies, including Cisco, GE Access and Compatible Systems. He has presented at many of today's biggest marketing conferences and, for the past six years, has been the host of the "ON24 Webinar Best Practices Series" webcast which has thousands of followers across the globe.